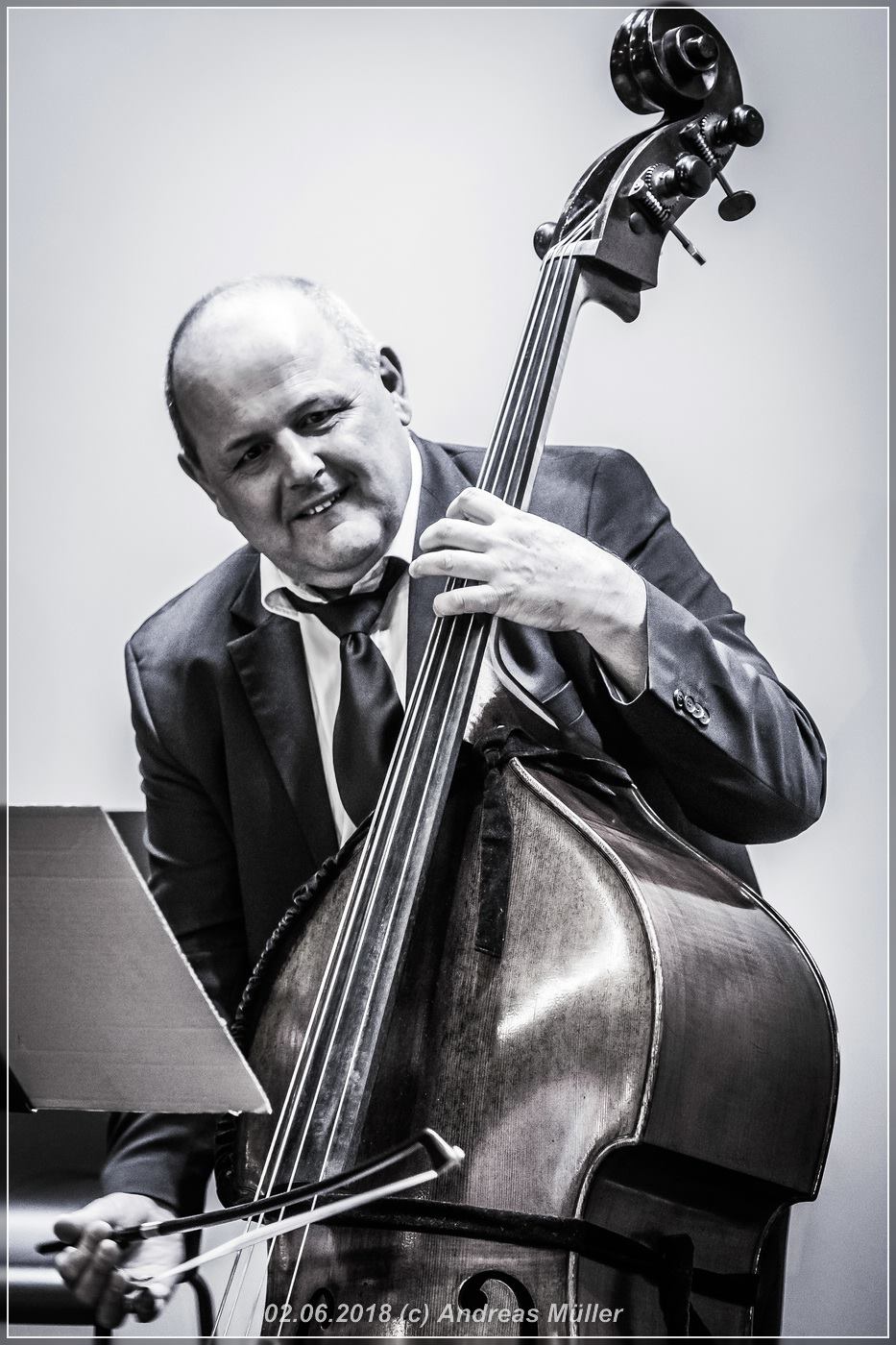 (Photo:c Andreas Müller 2018)
Johannes Strasser was born in Grieskirchen, Upper-Austria in 1959 and now resides in Vienna. He studied classical doublebass in Salzburg and Vienna. In 2005 he was awarded the prestigious Hans Koller Prize for "Sideman of the Year." A versatile, subtle and swinging accompanist and brilliant improviser, throughout his career Strasser has always been in extremely high demand in Jazz circles within all formats from Duo to Big Band and in the wide world of contemporary music as well as in various other musical contexts. In 2007 he commanded the bass chair for the Vienna Art Orchestra's 30th anniversary world tour and recorded "All that Strauss Vol II" with the VAO. Currently he is also participating in various exiting projects with mathias rüegg and the great multitalented young singer Lia Pale and also recorded with those groups. He had been the permanent bassist of the late Fritz Pauer in his Trio from 1990 until 2011 and played in numerous projects of Fritz Pauer: for example in his Quintett, in projects with the great Apollon String Quartett from Prague and the Trio, as well as serving as an exquisit rhythm section for Jazzgreats like Benny Golson, Art Farmer, Sheila Jordan, Don Menza, Johnny Griffin, Pee Wee Ellis and of Hans' long time friend and partner, the late austrian vocalist Cornelia Giese (CDs Rainsong and Lembranca PG records)With Fritz he recorded for example the CDs Moods from wonderland (Jive), Quiet Passion(Universal) and can be heard on about 7 more recordings with the Trio. In 2009 he co-produced the successful double CD "The Essence of Silence" (Jive records) together with Chico Freeman and Fritz Pauer and toured with that group. During his career Hans also played on ocassions and in Clubs with international Jazz greats such as: Harold Mabern, Eric Alexander, Bobby Shew, Lew Tabakin, Gene Harris, Chet Baker, Karl Ratzer, David Murray, John Colliani, Jesse Davis and others. In recent years, he could be heard both as player and composer with the Aaron Wonesch Trio, in a project with the internationally acclaimed turkish pianist/composer Burak Bedikyan and Austrian Saxofonist Martin Fuss.
Festivalappearances:
International: Tel Aviv, Eilat, Havanna, Le Mans, San Sebastian, Orleans,
Marseilles, Budapest, Rome, Barcelona, Sibiu, Rabbat, Ruhrtrienale, Praha, Belgrade,
Ancona, Munich, Istanbul, ….
National: Vienna, Salzburger Jazzherbst, Carinthischer Sommer, Attergauer Kultursommer, Wels, Villach, Inntöne….
Further collabaorations througout his career include:
Vienna Art Orchestra
Mozarteum Orchestra & Vince Mendoza,
Richard Österreicher Big Band and Combo
Lungau Big Band,
11concert band,
Carole Alston, Hans Salomon, Michael Heltau, Maya Hackford,Viktor Gernot, Maria Bill and others,
Strasser played Bass in numerous musical- and theaterproductions atVolkstheater, Ronacher, Josefstadt etc. and had been active as a studiomusiscian.
He can be heard on numerous recordings.
He is currently teaching Jazzbass and electric Bass at the Music School of Vienna and appeares as a lecturer on Jazz-Camps in Austria.