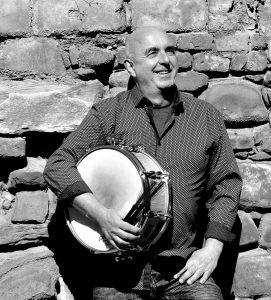 (Photo: Philipp Wehner)
Wolfgang Wehner was born on May 16, 1963 in Vienna. At 13, he had his first
engagement as drummer at an evening ballroom dance with a special police
permit, as he was still underage.
From 1982-1987, Wolfgang studied jazz drums at the Conservatory of Vienna
with Fred Mühlhofer. At 20, he toured the USA for the first time. As a
member of the "Swingtime Big Band", he received the "Best Sound of Glenn
Miller Worldwide" award on their US- tour in 1998 (Atlanta).
With the act "Jazz Gitti & Her Disco Killers", he received 3 x gold, 2 x
platinum, 1 x double platinum from 1987 – 1997, the World Music award in
1992 in Monte Carlo for the best selling artist in 1991 in Austria and
toured through Asia and Australia.
Other professional engagements include: Wolfgang Lindner Big Band, Vereingte
Bühnen Vienna Orchestra , Elly Wright, Hannes Kottek Quintet, Harry Stoyka
Quartet, Beat4Feet and the drum chair in musicals such as: Chicago, Jesus
Christ Superstar, Hair, Rocky Horror Picture Show, Jekyll & Hyde, Elizabeth
…).
His teaching credits (drums, percussion) include 7 years at the Franz
Schubert Conservatory Vienna and 3 years at the Gymnasium Ödenburger Str.,
1210 Vienna.
He is the founder of "jazztrio.at" (2013); Thomas Barth (p), Christoph
Petschina (b), Johannes Strasser (b) have been permanent members since 2015.
Wolfgang Wehner has also been very active in his charitable work for Tibet
and Nepal. He founded the Austria-Tibetan Friendship society and served as
technical director (light, sound, internet streaming) for the tour of HH
14th Dalai Lama in 2012.